Learn about horse tack and find local tack shops.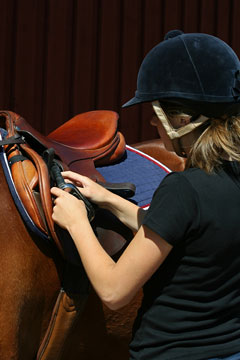 A tack shop markets horse-related products, such as saddles and bridles, to horse owners and the general public. These products may include horseback riding apparel, horse grooming tools, equine health products, and stable equipment. Many tack shops offer equestrian supplies and feed as well. Some shops specialize in English or Western tack and riding apparel or even focus on a single riding discipline such as racing or dressage. Tack store staff members should be knowledgeable about the riding style or discipline in which their store specializes. Tack shop owners often ride horses themselves, and they may know of local horse vets as well as horse boarding and training facilities. Proper saddle fit is essential for both horse and rider, and a good horse tack retailer should be willing to assist each customer in selecting and fitting a saddle. Some tack stores provide saddles on a trial basis and can even recommend qualified saddle fitters to their clients.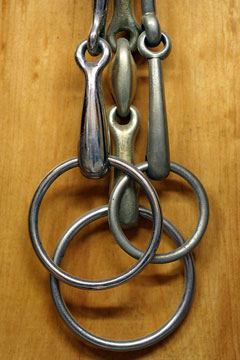 TackShops.us features a horse tack overview, which describes the various types of horseback riding and horse care products that are used by horse owners, riders, and caregivers. The site also features a convenient directory of tack shops in each state of the USA plus links to popular online tack suppliers. Note that horse tack is often sold at small tack shops that may operate part time or be appended to horse barns or horseback riding stables. Some of the tack shops listed in our directory may have relocated or even ceased operations. So, to avoid disappointment, be sure to call these shops before you visit them.
Nationwide Tack Shop Chains
State Line Tack


This tack shop chain offers a broad selection of horse tack and horse supplies.
www.StateLineTack.com

Tractor Supply Company - Horse Care


Find equine care products, supplies, and resources. Tractor Supply Company, the largest retail farm and ranch store chain in the United States, offers a good selection of equine care products.
www.TractorSupply.com
Online Horse Tack Shops
Back In The Saddle


Offers horse tack and accessories, plus gifts and apparel for horse lovers.
www.BackInTheSaddle.com

Toklat


This equestrian products distributor offers a broad selection of products for horses and horse people.
www.Toklat.com
Related Equestrian Website
If you are looking for a stable where you can board your horse or learn horseback riding, you may be interested in browsing this horse information directory. This well-designed equestrian resource features fun horse stuff and articles about riding horses, plus categorized links to thousands of horse-related websites.
---
Copyright © 2005- Zeducorp.
All rights reserved.
About us
.
Contact us
.
Search
.
For your convenience, certain links will open in new windows.
Horse Tack Shops - Horseback Riding Products and Apparel